Your spring gardening calendar
on August 31, 2019
No Comments
Get the diary out, spring is going to be busy.
It starts with bulbs. Daffodils nod their heads in the streets, parks and private gardens of the charming village of Rydal, which celebrates Daffodils at Rydal on the weekends of September 7-8 and 14-15. For stunning tulips, head to Tulip Tops, a private garden just this side of Canberra, which opens every day from September 14-October 13 and is designed purely for this month-long dazzle of bulb and blossom.
Buy as well as marvel at the Clivia Society of NSW Spring Show, where the latest in clivia breeding will be on display including highly desirable lime green and pale peach hybrids. Experts will also be giving talks about clivia care and cultivation on Saturday September 14, 9am-4pm and Sunday September 15, 9am – 3pm, at Thornleigh Community Centre.
Later in the month, September 28-29, the Royal Horticultural Society NSW holds its Spring Show in the riverside grounds of the fabulous Thomas Walker Estate in Concord West. All gardeners are welcome to show their plants in competition. The potted plant category is hotly contested, so start pimping your pilea or pothos now.
You'll need to plan to get to Plant Lovers Fair at Kariong, on the same weekend, 28-29 September, where more than 40 exhibitors will have hard-to-find plants and garden products for sale. There are also 10 private gardens open in the Gosford region over the weekend, including sculptor Gaby Porter's new Pearl Beach garden and on Sunday only, garden designer Peter Nixon's Sea-changer.
Compare the warm temperate gardens of Gosford with cool climate mountain gardens when the Leura Gardens Festival opens 10 gardens in a range of styles, but with plenty of azaleas and blossom trees, over two long weekends in October, 5-7 and 10-13.
From mid-October choices need to be made. On the weekend of October 18-19 you could travel south for eight gardens around Berry  or stay closer to home and head to Galston for nine private gardens, four of which are open for the first time.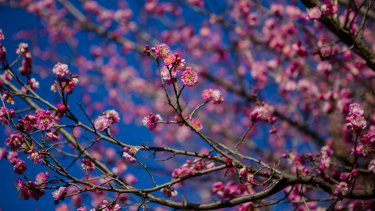 There's another toss-up on the last weekend of October – Bundanoon's Garden Ramble or the Spring Spectacular at Bathurst. If heading to Bundanoon, stop in at Red Cow Farm, Perennial Hill and Chinoiserie in Mittagong on the way. And if Bathurst is your direction, schedule a stop at Little Hartley, where Wild Meadows and Gory-u will this year be joined by an exciting new garden developed by David Kennedy and Andy Dunshea of Clover Hill Rare Plants fame. The new garden, Highfields, has been years in the making and opens for the first time in October, Fridays to Sundays.
["source=smh"]