So you think you aren't cut out for gardening? Let us help you out
on September 16, 2019
No Comments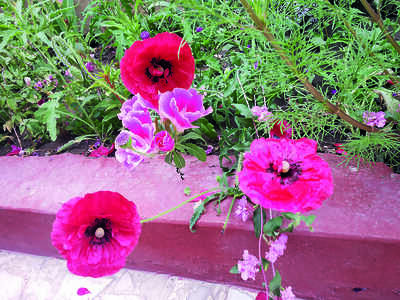 Bring 'em home
Look at any balcony garden around you and you'd notice only happy, healthy, flowering plants. Yes, plants love the rainy season. So it's the right time to test your green thumb.
Beginner's can bring home a whole variety of saplings – marigolds, petunias, geraniums, impatiens, jade and ferns, as well as edibles such as thyme, tulsi, curry leaves or aloe vera and other succulents. If you are game to plant seeds, pick up zinnia or rain lilies. And since money plants make everybody look good, have them too.
Buy from Lalbagh Botanical Garden or Indo-American Hybrid Seeds at Ulsoor or haggle for a good bargain at roadside nurseries
Ground rules
You may have killed too many plants in the past, so you don't want any more failure – but don't give up just yet. Instead, join a gardening workshop or a course and learn from the experts. From how to set up a terrace garden or a small urban farm, to the dos and don'ts of planter size, watering schedule, sun exposure, pruning, pest management and how to compost kitchen waste and turn it into manure that your plants can feed on, they will guide you through it all. Some even send you back with free saplings and grow bags.
Look up mydreamgarden.in and bhoomicollege.org
Small wonder
Honestly, a few plants is all that you need to liven up your balcony or windowsill. Still, if you'd like to spruce it up further, how about putting together a fairy garden, a broken pot garden or a mini garden? Basically, a garden that is set up with Lilliputian figurines, fake butterflies, bees and bugs and actual living plants, anchored in broken earthen pots, a coffee mug or a terrarium. They look whimsical and cute.
Muddy Waters Mini Gardens sells and conducts
workshops; or attend Pebbles Bangalore Terrarium Workshop (find both on Facebook)
Sunny side up
You'd like a garden but don't have the space in your rat hole of a flat? Vertical gardens might offer a solution. As the name goes, these gardens grow upwards (vertically) using a trellis or other support system, rather than on the ground (horizontally) and are ideal for apartments that are short on floor space. From herbs to veggies, flowering plants and ornamental grass, you can grow them all. The fun part is you don't need to bend and break your back every time you want to tend to your green patch. Look up gardenwalls.in, greenmylife.in or urbanmali.com
The doll show
Head to Urban Bazaar for your fill of festive shopping. For the festive season, it has a huge stock of Dasara dolls, made from clay, stone, wood and metal. The lovely creations are perfect for this season, when people exhibit them, arranged neatly on a stepped platform. Many households use nine steps for the exhibition of dolls to signify the nine nights of Navaratri.
WHERE: Karnataka Chitrakala
Parishath, Kumara Krupa Road
WHEN: 11am-7pm, till September 22 ENTRY: Free
All kinds of music
Soul Circle is a two-member band based out of Bengaluru which prides itself on playing all genres of music – pop, rock, blues, country, and others. So here's something for everyone to look forward to. They have also toured Greece, the Czech Republic, Dubai, Abu Dhabi and across India since their inception in 2016.
WHERE: Hotel Radha Regent, near Fire Station, Electronics City
WHEN: 7pm, September 16
CALL: 67276969
Money and business
Originally written by William Shakespeare, The Merchant of Venice has been translated to Kannada by KV Akshara as Veniccina Vyaapaara for this play by Sanchari Theatre. In this version, the play does not just remain just the story of a merchant. Set in the contemporary world, it looks at how the business or trade has expanded to involve governance as well. Business, now, is a game of dice. In this play, we see the concept of trade take on different meanings under various contexts. Under the pretext of telling the story of the merchant from Venice, the play explores the globally pervasive issue of business and the rules of its game, the never-ending communal clashes, and a life without free will or choice. This production is an effort to understand this story of the world.
WHERE: Rangashankara, 2nd Phase, JP Nagar WHEN: 7.30pm, September 17 TICKETS: `150 onwards, bookmyshow.com
["source=bangaloremirror"]